Switches START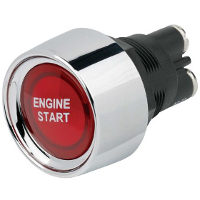 Buttons tailored to your needs
The start buttons are responsible for starting the engine. The place of installation of the start type button is optional. In rally cars, start-type buttons allow you to start the engine without the need for an ignition switch and a key. This is a great convenience for drivers who do not have to carry the keys, because they can also easily set off on the road without them. The start buttons are optional, so the driver can adjust them to their individual preferences.
Launch with one button
In our offer, apart from a switch such as a start button, we also have buttons on the steering wheel. They are an add-on that makes it easier to start the device that is currently connected. Steering wheel buttons can be connected to almost any device in the car, such as windshield wipers. Thanks to this, the driver can adjust the parts of the car to which he needs quick access to the buttons.
Ask us a question
At Inter-Rally, we offer start buttons and steering wheel buttons from IRP and RRS manufacturers. If you have any questions, please contact us . Also check the ON / OFF switches as well as the start panels .
Check also other products from the category: Electrical system .