Fuel Fittings PTFE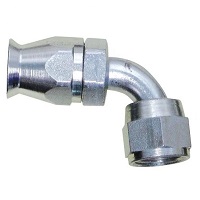 Tight and safe connection
Fittings and couplings for Teflon hoses are the only solution when assembling Teflon hoses. Special fittings available in our store are used to clamp Teflon hoses, it is unacceptable to mount the hose on other fittings. The terminals and sleeves for Teflon cables ensure tight and safe connection. Inter-Rally teflon hose fittings are made of high quality materials to ensure long life and durability even on the toughest routes.
Steel of extraordinary strength
The inside of the cable is made of synthetic PTFE Teflon, and the steel braid is steel of extraordinary strength. The greatest advantage of Teflon hoses is that they do not react with any substances, so they do not show any wear, even after a very long time of use. They are also corrosion resistant, which makes their use much more beneficial in motorsport.
Ask us a question
In our store we have connectors for Teflon hoses from the global manufacturer of equipment for motorsport Aeroquip . If you have any questions, please do not hesitate to contact us . See also the fuel hoses in the Fuel system category.