Fuel Swirl Pots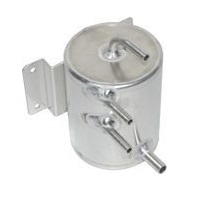 Tackle tricky corners more efficiently
Fuel Swirl Pot is a device designed to meet the requirements of professional racers who like long, fast turns. Fuel Swirl Pot works well in situations where a large, powerful engine works at high revs and needs large amounts of fuel. In addition, the fuel expansion tank is essential when accelerating, braking hard, cornering in tight corners or when driving on a large bank.
Better layout support
Without the expansion tank, the phenomenon of air being sucked by the fuel pump may occur, and thus the fuel lines and injectors get air. The fuel expansion tank effectively prevents air from entering the fuel system. Systems assisted by Fuel Swirl Pot work much better in the situation of overcoming difficult routes and corners. Thanks to this, Fuel Swirl Pot is very popular in motorsports.
Ask us a question
If you have any questions for us, please contact us . In our offer you will find high-quality aluminum Swirl Pots from the English company OBP. Check also fuel hoses from category: Fuel system