Fittings wall connectors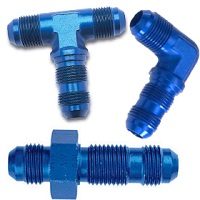 Make sure the cables are properly installed
Bulkhead walls isolate from each other those parts of the car that should not be directly connected to each other, such as the engine compartment and cockpit. The problem then arises when we have to pull the cables through the bulkhead walls. In this case, the connectors for the bulkhead walls are a necessary element. Connectors for bulkhead walls allow for free passage of cables, without the need to create unsightly holes.
A wide range of couplings in various sizes
Due to the use of bulkhead wall couplings, the ducts are tightly attached to the bulkhead wall. As a result, the cable does not move, which could damage it. Clamps for bulkhead walls in our offer are available in various sizes, which allows you to choose a connector for bulkhead walls suitable for your current needs. Various shapes of couplings for bulkhead walls allow for any installation of pipes.
Ask us a question
If you have any questions, please contact us . We offer Aeroquip , Goodridge and IRP connectors for bulkhead walls. Check also the fuel hoses in the category: Fuel system .