Adapter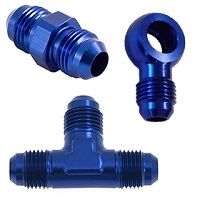 Adapters for the fuel system
Adapters are adapters that allow you to connect cables to the fuel pump. It is an indispensable element when assembling the fuel system. Our offer includes a wide selection of adapters with only male and only female inputs and adapters with both female and male inputs. Thanks to this, adapters that are suitable for each car model.
Upgrade the fuel system
The universality of the adapters allows you to choose the right adapter for the fuel system. Adapters ensure tightness and protection against fuel leakage. In addition to elements such as an adapter, we have a wide range of parts for the fuel system, such as a nipple, tee, connector / manifold, fuel tank vent, end with a u-bolt, ring end, as well as a banjo screw.
Ask us a question
Adapters and other accessories for the fuel system by Goodridge , Aeroquip , IRP , QSP are available from Inter-Rally. If you have any questions, please do not hesitate to contact us . Check also the fuel hoses and fuel pumps in the category: Fuel system .