OMP Hubs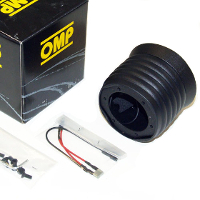 Find the right steering gear
Every rally car needs a suitable steering wheel. Hence, he also needs to purchase a rally steering wheel with a steering column. The steering wheel is necessary to install the replacement steering wheel in your car. The OMP steering wheel hub is designed to offset the steering wheel and reposition it for an even better driving position.
Highest quality steering wheel acquisition
OMP purchases are products of the highest quality. In addition, the acquisitions of the Italian company OMP come from a leading manufacturer of motorsport equipment. All OMP purchases in our store have the same mounting system, 6 bolts with a spacing of 70mm and are compatible with every steering wheel from our offer. The purchase is intended for cars with and without an airbag.
Check also other products from the category: Interior .
Ask us a question
If you have problems finding a purchase that fits your car, contact us and we will help you choose the right one. Also check rally steering wheels or tuning steering wheels .