Rally Seats (FIA)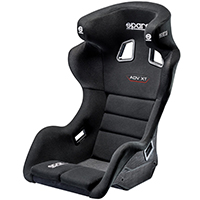 Comfort and safety
Most people associate bucket seats with rally cars or cars tuned by young drivers. Meanwhile, the bucket Seat guarantees safety and driving comfort. Various technologies allow you to use simple, almost plastic versions that only look good, to elaborate seats made of fiberglass or carbon, which withstand enormous pressure and overload.
Find your Seat
Choosing the right racing seat is not an easy task - such a Seat must fulfill many functions. It should be, above all, safe, but also comfortable and light. The sports Seat is also a "connector" between the driver and the car. It is worth investing in it, especially when we travel long distances, working, for example, as a driver. In such conditions, a bucket Seat will not only guarantee safety, but also reduce fatigue, especially of the skeletal and muscular systems, as a result of sitting in one position for a long time.
Large selection of racing seats
In our offer you will find a whole range of FIA-approved rally seats, as well as rally seats designed for amateur competitions. Starting from basic tubular structures, through car bucket seats made of polyester fibers or glass fiber bucket seats, to sports seats made of carbon fibers. We have seats for rally cars, racing cars and for beginners of such companies as Bimarco or Mirco, but also top-class rally seats of brands such as Sabelt, MOMO, Sparco or OMP .
Check also other products from category: Interior .