Roll Cages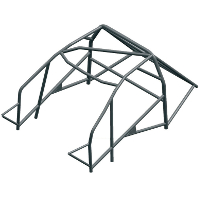 Stay safe during an accident
Roll cages are an integral part of motorsport equipment. During the rally, a roll cage protects the crew from injury in the event of an accident. In addition, the roll cage stiffens the car, which has a positive effect on cornering stability.
Find a roll cage that fits your car
There are bolted or welded safety cages. A breakdown also exists when determining the number of mountings for the roll cage. FIA basic safety cages with FIA approval have 6 such points / anchorages. The more mounts a roll cage has, the more protection it provides for players. FIA roll cages are made of materials such as steel or carbon-manganese steel that are highly resistant to compression. High compressive strength makes the cages made of carbon-manganese steel thinner, and thus much lighter than those made of traditional steel.
Ask us a question
If you have any questions, please do not hesitate to contact us . We will help you find the right safety cage. Also check out the accessories for the safety cage . In the Inter-Rally offer you will find safety cages from Sparco , OMP and Custom Cages .
Check also other products from the category: Interior .