Trackday Harnesses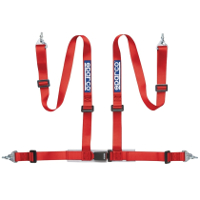 Sports belts with ECE road approval
When you sit in your seat before a race or rally, the last thing you should worry about is safety. Therefore, at Inter-Rally, in order to ensure the highest quality and safety, we offer professional belts only from proven and trusted manufacturers. Another task of the ECE-approved belts is to keep them perfectly in the seat, so as to ?feel the car? every inch.
Find sports belts for you
In our offer you will find all types of sports seat belts: 3-point, 4-point and 5-point. In this section you will find seat belts for all types of cars. You can buy products from companies such as: Sabelt, Sparco , OMP, IRP or Schroth Racing . Also check out the FIA -approved rally belts from our range of sports harness belts .
Check also other products from category: Interior .