Wheel Holder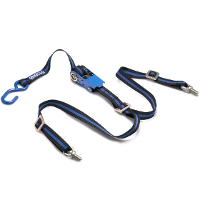 Attach the spare wheel
The spare wheel is not a mandatory part of a rally car's equipment. However, the FIA made a reservation that if the spare wheel is already fitted to the car, it must have stable mountings so that it does not move while driving, causing a dangerous situation. In addition, the spare wheel with its mounting for the spare wheel must be in the luggage compartment.
Different types of spare wheel mounting
To meet these standards, Inter-Rally introduces spare wheel mounts. Made of the best materials such as carbon or steel or made of a strong nylon tape, the spare wheel mounts prevent the wheels from moving while driving. In addition to the spare wheel mounts, we also have an impact wrench mount, which is available in carbon or fiberglass.
Ask us a question
If you have any questions, please do not hesitate to contact us . We have a solidly made mounting for the spare wheel from global manufacturers of motorsport accessories such as CarbonTec , IRP , OMP , QSP , RRS , Sparco . Also check the towing hooks .
Check also other products from the category: Car accessories .