Brake Hose, Fittings, Adaptors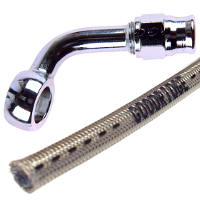 Goodridge and Aeroquip brake hoses
Goodridge sports brake hoses are flexible stainless steel braided brake hoses. Steel braided brake hoses are designed to replace regular standard rubber brake hoses. The inner wires are made of PTFE Teflon, and the outer layer of the wire is high quality stainless steel, this combination provides much greater strength compared to traditional wires. TFE brake hoses will not corrode, chafe or chafe.
Upgrade your braking system
In this section you will find a wide range of Goodridge and Aeroquip, which offers various types: couplings, adapters, terminals, banjo terminals, tees, reducers, elbows, profiled at various angles, as well as adapters for passing through bulkhead walls. Such a huge selection of TFE brake tips and hoses give us unlimited possibilities to expand the braking system. In combination with the Teflon hose that we offer, you can create a complete, solid and reliable braking system.
Ask us a question
If you have any questions for us, please contact us . You might also be interested in brake master cylinders .
Check also other products from category: Braking system .