Brake Fluid Reservoir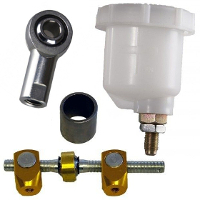 Large selection of accessories for the braking system
The braking system is the basic system in every car, not only rally cars. It is important that all parts of the system function properly. Accessories such as a hose adapter, ball joint, remote adjuster or expansion tank are just as important to keep your car running smoothly at all times. In our offer you will also find complete sets for connecting a dual-circuit brake pump or a set for connecting a handbrake pump. In addition, we offer a wide range of repair accessories. A dual-circuit pump repair kit or a Tilton corrector repair kit and a D03 screwdriver will be very useful in emergency situations.
Upgrade your braking system
Accessories such as a bleeder adapter or the brake bleeder itself drains excess air so that the brake system works efficiently. On the other hand, the brake cleaner is a must-have to keep the brake system clean, while extending its life. Reservoirs and accessories is a section where you will find everything you need for the braking system.
Ask us a question
If you have any questions for us, please contact us . Accessories and expansion tanks from Aeroquip , Black Diamond , Goodridge , IRP , OBP , QSP , RRS , Tilton and TRW available at Inter-Rally! Also check the brake pumps .
Check also other products from category: Braking system .