Eibach Pro-Spacer Universal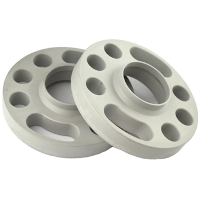 Universal Eibach Pro-Spacers
Wheel spacers are necessary when installing non-original rims. They increase the track width, thus giving character to the appearance of the car. In addition, the universal distance between the Eibach Pro-Spacer wheels allows their wide spacing, which means that appropriately selected distances widen the car's driving characteristics. Thanks to the universal Eibach pro-Spacer distances, the car becomes more stable, making cornering easier. The universal Eibach Pro-Spacers are made for motorsport.
High quality, global manufacturer
Eibach Pro-Spacers are available in different versions with a width of 5 to 30 mm. Eibach Pro-Spacers have a high-quality anti-corrosion protection through a special coating process. In addition, made of high-quality, tensile-resistant aluminum alloy. The universal Eibach Pro-Spacer wheel spacers are professional workmanship that guarantees perfect wheel balance.
Ask us a question
If you have any questions, please do not hesitate to contact us . Check also Eibach bolts in the category: Wheels .