Eibach Pro-Spacer Universal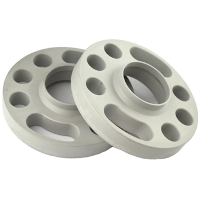 Universal Eibach Pro-Spacers
Wheel spacers are necessary when installing aftermarket rims. They increase the wheelbase, thanks to which they give character to the appearance of the car. In addition, the universal Eibach Pro-Spacer wheel spacer allows for a wide spacing, which means that properly selected widening spacers improve the driving characteristics of the car. Thanks to the universal Eibach pro-Spacer spacers, the car becomes more stable, making cornering easier. Universal Eibach Pro-Spacer widening spacers are made for motorsport.
High quality, global manufacturer
Eibach Pro-Spacers are available in different versions with a width of 5 to 30 mm. Eibach Pro-Spacer spacers have high-quality anti-corrosion protection through a special coating process. In addition, made of high-quality aluminum alloy resistant to tensile strength. Universal Eibach Pro-Spacer wheel spacers are a professional design that guarantees perfect wheel balance.
Ask us a question
If you have any questions for us, please contact us . Also check out the Eibach bolts in the category: Wheels .