Underwear Sets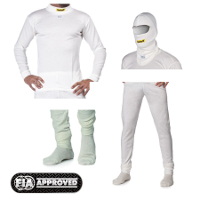 Rally underwear with FIA approval
Rally underwear is a very important element of the driver's and co-driver's equipment. For safety reasons, FIA rally underwear must be made of non-flammable materials such as nomex or viscose. We only have sets of rally underwear that are approved by the FIA. Racing underwear is fireproof and provides the highest level of comfort.
Find a lingerie set for yourself
The FIA rally underwear set complements the protection provided by the suit and separates the body from the rally suit while absorbing sweat, therefore the FIA rally underwear also maintains a high level of hygiene. Higher models of FIA rally underwear sets are made of materials that increase air circulation, which further improves the comfort of use. Sparco has in its range of products X-Cool series underwear, which provides additional cooling and a feeling of freshness. The FIA underwear set includes underpants, turtleneck, socks and balaclava.
Ask us a question
If you have any questions, please do not hesitate to contact us . We will help you choose the right lingerie set. The Inter-Rally offer includes rally underwear sets with FIA approval from manufacturers such as OMP , RRS , Sabelt , Alpinestars and Sparco .
See also other products from the category: FIA Clothing .