Harness Cutters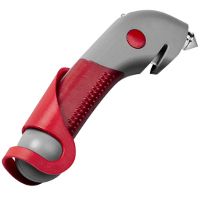 Safety first and foremost
Belt knives are mandatory equipment for every rally car. As the name suggests, seat belt cutters are used to cut seat belts to exit the car as efficiently as possible. Thus, belt knives are useful in every breakdown and in every case where it is necessary to get out of the car quickly.
A large selection of belt cutters
Sometimes it happens that during a high dose of adrenaline, a person is not able to unfasten their seat belts in the traditional way. It is safer to use a belt cutter, which does not require such precision. In our offer you will find solidly made high-quality belt knives. We also have knives for cutting belts with a hammer, which is useful in the further evacuation route.
Ask us a question
If you have any questions, please do not hesitate to contact us . In Inter-Rally you will find belt knives and a hammer with a belt cutter by the manufacturers IRP , OMP , RRS and Sparco . Also check the racing lanes .
Check also other products from the category: Car accessories .