Brake Fluid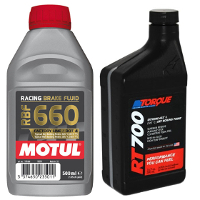 Efficient brake fluids
An efficient braking system is the basis for the proper operation of the car on the track as well as in everyday life. Good brake fluid is essential to utilize 100% of the braking system performance. The boiling point is a measure of the load capacity of the brake fluid. This load can be particularly high on the brake calipers.
High boiling point brake fluids
When selecting the brake fluid, you should take into account whether your car is equipped with a safety system, such as ABS or ESP. In the case of ABS and ESP braking systems, brake fluids with the lowest possible low-temperature viscosity are essential. Our offer includes fluids with various operating temperature ranges. Motul RBF600 and RBF660 differ in their maximum boiling point.
Ask us a question
Our offer includes the highest quality brake fluids from such manufacturers as Motul , RRS and Ferodo . Not only for rally and sports cars, but also for ordinary civilian cars. If you have any questions, please do not hesitate to contact us . You might also be interested in Braided Brake Lines, manufacturers Black Diamond or Goodridge .
Check also other products from the category: Braking system .