Heat Shielding & Protection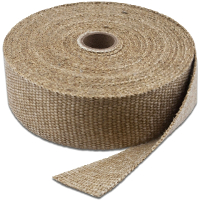 Protection against hot engine components
The thermal insulation tape significantly reduces the level of thermal radiation, at the same time lowering the temperature of other components in the engine compartment. The tape also stabilizes the working temperature of the insulated elements of the exhaust system, extending their service life. The thermal insulation tape improves the engine's performance and operating parameters at the same time. Fabric insulation for exhaust systems has been used in high-performance sports since the late 1980s, proving its popularity as the heat generated by the exhaust system is a serious problem.
A large selection of tapes, mats and thermal covers
In order to meet the problem of heat generated, Inter-Rally has prepared a special offer. In our store you will find thermal covers that prevent heat from spreading to other parts of the car. Thermal shields, thermal mats and thermal insulation tapes are indispensable in motorsport, because in this area the engine works at the highest speed, emitting a large amount of heat. We also have heat shields for cables as well as heat-resistant paints and adhesives for even greater safety of all car systems.
Ask us a question
If you have any questions, please do not hesitate to contact us . Our offer includes ThermoTec, IRP, Goodrige, Mocal and QSP products. Also check the silicone hoses .
Check also other products from the category: Car accessories .