Fuel Filler Caps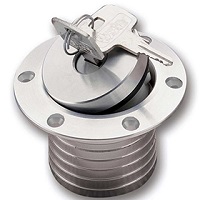 Adjust the fuel filler to your needs
Sports fuel fillers allow you to move the original fuel filler anywhere on the car body without disturbing the contour and aerodynamics of the car. Thanks to this, the fuel fillers are adjusted to the individual needs of the customer. In addition to the obvious use of elegant and professional appearance and the ability to modify the fuel filler point in any way, sport fuel fillers allow you to reliably and tightly close access to the fuel system.
Fuel fillers and fuel pipes
The fuel fillers therefore protect against fuel leakage and unwanted foreign bodies that could be found in the fuel tank. We have fuel fillers with or without an integrated funnel, with or without a key. In addition to fuel fillers, our offer also includes a wide range of accessories for the installation of fillers. You can find fuel pipes, covers and fuel fillers at Inter-Rally.
Ask us a question
In our offer you will find fuel fillers and all the necessary elements for installation in the car of the manufacturers Mocal , Gates and Sparco . If you have any questions, please do not hesitate to contact us . Also check the fuel tanks and fuel hoses in the category: Fuel system .