Water Header Tank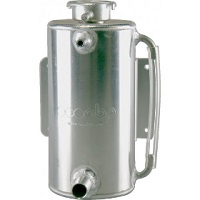 Mount anywhere
Cooling fluid expansion tanks of the English company OBP, make it possible to relocate a conventional plastic tank. This is especially useful when the engine is swapped and when the original tank takes up the space needed. The overflow tank helps to get rid of unwanted air in the cooling system. In addition, the OBP expansion tank can be mounted anywhere under the hood. Thanks to this, we save space that can be used for other essential elements of a rally car.
High-quality, durable aluminum
OBP coolant expansion tanks are made of high-quality aluminum, which is much more durable than the plastic from which the serial expansion tanks are made. We have overflow tanks with hoses, thanks to which you can see the fluid level in the tank. In our store, we focus on the good of the customer and the long service life of the offered products, so before shipment to the customer, each expansion tank is pressure tested, which ensures the highest quality.
Ask us a question
If you have any questions, please do not hesitate to contact us . Check also coolants and additives in the category: Cooling system .