Motul Engine Oils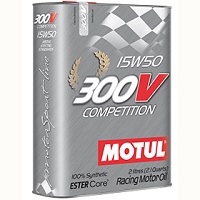 Efficiency and effectiveness
Motul has introduced completely new products to its offer. By focusing on improving the quality and effectiveness of lubricants, Motul transformed the oil industry by introducing the first state-of-the-art technology. Motul is a brand that mainly designs high-quality motor oils for sports cars. The use of engine oil is essential for the proper operation of the engine.
Motul oil and its properties
Motul engine oil forms a film that protects parts during the processes in the engine. In addition, Motul engine oil cools components where radiator performance is limited, e.g. in the case of crankshafts and pistons. In addition, Motul engine oil removes contaminants from the engine, depositing them in the crankcase and cylinder head. At the moment, we offer, above all, a changed, improved and even more technologically advanced, flagship range of products intended for professional motorsport, i.e. 300V MOTORSPORT. Now based on the unique Motula technology - Double Ester.
Ask us a question
If you have any questions, please do not hesitate to contact us . Also check the oils of the manufacturers Millers Oils Motorsport or Vavoline .
Check also other products from the category: Oils and lubrication system .