Oils filters K&N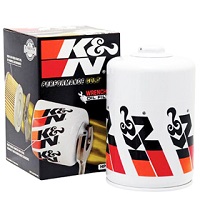 K&N especially for motorsport
K&N Premium Wrench-Off® Oil Filters are a range of sports oil filters originally developed for racing cars. Specially designed thicker walls of the K&N oil filter housing for extra strength and durability, which reduces the risk of damage by e.g. loose stones. The durable K&N oil filter design withstands higher oil pressures and temperatures, even in racing conditions. A hole has been drilled in the K&N oil filter cap to attach additional protection against self-loosening.
Check also other products from the category: Oils and lubrication system .
High flow rate
K&N Oil Filter Provides high flow rate while providing excellent filtration. A high oil flow rate is especially important in racing and rally vehicles, where oil is pumped much faster than in a standard car. K&N oil filters are suitable for handling all types of conventional and synthetic blended engine oils. K&N Oil Filters are made with a technique that offers the peace of mind of consumers wanting the best.
Ask us a question
If you have any questions, please contact us , we will help you choose the right filter for your car. Also check the oil pumps .