Bonnet Pins & Fasteners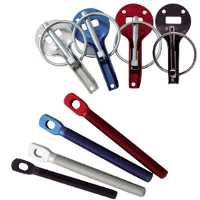 Quick opening of the hood and tailgate
The regulations require the use of bonnet and boot lid fasteners in rally cars, replacing serial closures with various types of clasps, such as peg clasps, spring clasps, rubber clasps, AeroCatch clasps, key clasps, and leather clasps. Which allow for easy and quick opening of the bonnet or the tailgate.
A large selection of clasps
The bonnet fasteners speed up the opening and closing of the bonnet or the tailgate, while at the same time being strong enough to withstand the rigors of sport. Clasps are made of various materials, such as stainless steel, aluminum, titanium, rubber or leather. The method of firmly attaching the mask or the flap is now a matter of taste. Clasps are also used to attach bumpers, splitters or power plants.
Ask us a question
If you have any questions, please do not hesitate to contact us . We offer various types of clasps from Sparco , AeroCatch , OMP , IRP and RRS . Also check the towing hooks .
Check also other products from the category: Car accessories .