Battery Isolators & Master Switches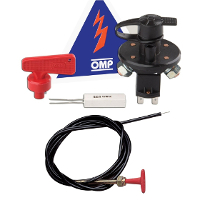 Safety first and foremost
Every rally car has a lot of electrical installations. In order to ensure the safety of the driver and the pilot in the event of an accident or collision, electric devices are installed. Such a switch cuts off the power supply to the entire car, preventing a fire from occurring through the electrical system.
Main power switch
In the interests of the safety of the rally car crew at Inter-Rally, we have a wide range of power switches. Electric circuit breakers are mandatory equipment required by the FIA. In addition, the car must be fitted with a cable or a handle to cut off the power supply from the outside of the car. The power switch is therefore a must-have that ensures the highest safety while overcoming even the toughest routes.
Ask us a question
If you have any questions, please do not hesitate to contact us . We have power switches and spare keys for power switches from OMP, RRS, Sparco, Armtech and IRP . You may also be interested in batteries and accessories .
Check also other products from the category: Car accessories .