Master Switches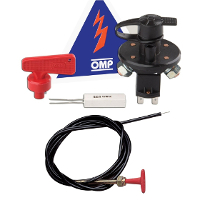 For the sake of safety
There are plenty of electrical installations in every rally car. In order to ensure the safety of the driver and co-driver in the event of an accident or collision, power switches are installed. Such a switch cuts off the power supply to the entire car, preventing a fire from occurring through the electrical system.
Wide selection of power switches
Out of concern for the safety of the rally car crew, at Inter-Rally we have a wide range of power switches. Circuit breakers are mandatory equipment required by the FIA. In addition, a cord or handle must be installed in the car to cut off the power supply from the outside of the car. A power switch is therefore a must-have to ensure the highest safety when overcoming even the toughest routes.
Ask us a question
If you have any questions for us, please contact us . We have power switches and spare keys for power switches by OMP , RRS , Sparco , Armtech and IRP . Also check batteries and accessories .
Check also other products from the category: Electrical system .