Clutch kit Xtreme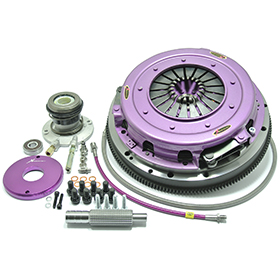 Sport clutches
Sport clutches are a reinforced version of the clutch. They allow you to transfer significantly more power and more torque from the engine to the transmission compared to a standard clutch. They are more effective, their durability is higher and they dissipate the heat generated during clutch operation better. Our offer includes XTREME PERFORMANCE sport clutches. It is a world-renowned Australian company that creates professional car clutches.
XTREME PERFORMANCE CLUTCH
The XTREME PERFORMANCE company offers as many as four levels of strengthening its shields.
Stage 1 - available in 4 configurations. The organic clutch kit offers a significant increase in power and torque while maintaining excellent driveability.
Stage 2 - available in 3 configurations. Comes with spring-loaded or spring-loaded/cushioned ceramic discs. Perfect for rally racing and more.
Stage 3 - Contains carbon discs and is required for very high power motorsport applications where high resistance to very high temperatures is needed. Recommended only for use in motorsport.
Ask us a question!
If you have any questions for us, please contact us.
Also check out more products from the drivetrain category