ITG Ram Pipe Filter Sock
(to 220KM)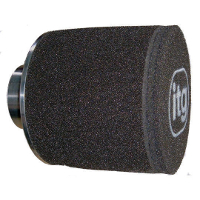 Sponge filters for every car
ITG sponge filters, as the name suggests, are made of high-quality sponge, which is ideal for air filtration. ITG filters are designed with motorsport in mind to ensure perfect engine cooling and therefore increase engine service life. By increasing the air supply and supplying cooler air to the engine through the ITG Maxogen filters, its potential can be unleashed. Our offer includes a wide range of ITG Maxogen air filters, from a simple replacement element that fits the original airbox, to a complete intake system made of carbon fiber.
Reusable filters
We have a wide range of filters from the world-famous K&N and ITG companies. All ITG Maxogen filters we sell are cleanable and reusable, not only ensuring high performance but also durability. ITG filters that we have available fit almost every car model. Contact us and choose the best ITG Maxogen filter for your car.
Ask us a question
If you have any questions, please do not hesitate to contact us . Also check out the air filter accessories for even more filter performance.
Check also other products from the category: Intake System .