Oil Radiators Setrab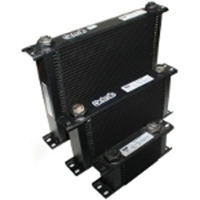 High performance for every car
Setrab oil coolers are widely regarded as the best oil coolers in terms of performance and quality. A very wide range of sizes allows you to match the appropriate Setrab oil cooler to each car. The advantage of the Setrab oil cooler is also its low weight, durability, high efficiency and easy installation - these are just some of the reasons that make Setrab a world leader in the production of oil coolers.
The strength of aluminum, Setrab quality
The entire structure of the Setrab oil cooler is made of high-quality durable aluminum. Setrab oil coolers commonly used to cool engine oil, gearbox oil, differentials and power steering. They also ensure high-quality cooling by effectively lowering the oil temperature. The iconic black Setrab oil coolers have earned confidence in virtually every area of motorsport.
Ask us a question
If you have any questions, please do not hesitate to contact us . Check also Mocal oil coolers , Mocal HD oil coolers , as well as Setrab Slimline oil coolers in the Cooling System category.