Coolant fluid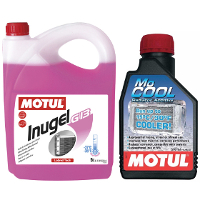 Cooling at the highest level
Engine cooling is very important in every car. In motorsport, apart from a sports radiator, it is also important to have a good coolant. The coolants are used to optimally reduce the engine operating temperature. In addition, the coolants provide very durable corrosion protection throughout the cooling system.
Motul coolants
Motul coolant is recommended for all cooling systems: cars, trucks, construction and agricultural machines, gardening machines, ships, stationary engines. Our offer also includes Motul MoCool, which reduces the temperature of the cooling system by up to 15 ° C. In addition, it provides better thermal transfer than conventional glycol based coolants.
Ask us a question
Our offer includes Motul products. If you have any questions, please do not hesitate to contact us . You might also be interested in Mishimoto coolers in the category: Cooling system .