Brake Line Kits Black Diamond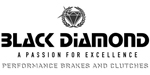 Steel braided Teflon brake lines
In every field of motorsport, no matter if it's drifting, racing, off-road or ¼ mile, the absolute foundation is a solid and reliable braking system. The Black Diamond sports brake line kits are stainless steel braided flexible brake lines. Steel braided brake lines are designed to replace regular standard rubber brake lines.
Huge selection of braided brake lines
The internal pipes are made of PTFE Teflon, and the outer layer of the pipe is made of high-quality stainless steel, this connection provides much greater strength compared to traditional pipes. Teflon brake hoses will not corrode, chafe, or chafe. Black Diamond braided brake hoses are the perfect choice if you are looking for durable replacements for serial brake hoses.
Ask us a question
The Inter-Rally offer includes complete, dedicated sets of braided brake lines for specific models, both for sports and rally cars, as well as for ordinary civilian cars. If you have any questions, please do not hesitate to contact us . We will help you choose the right brake hoses. Also check the brake fluids .
Check also other products from the category: Braking system .